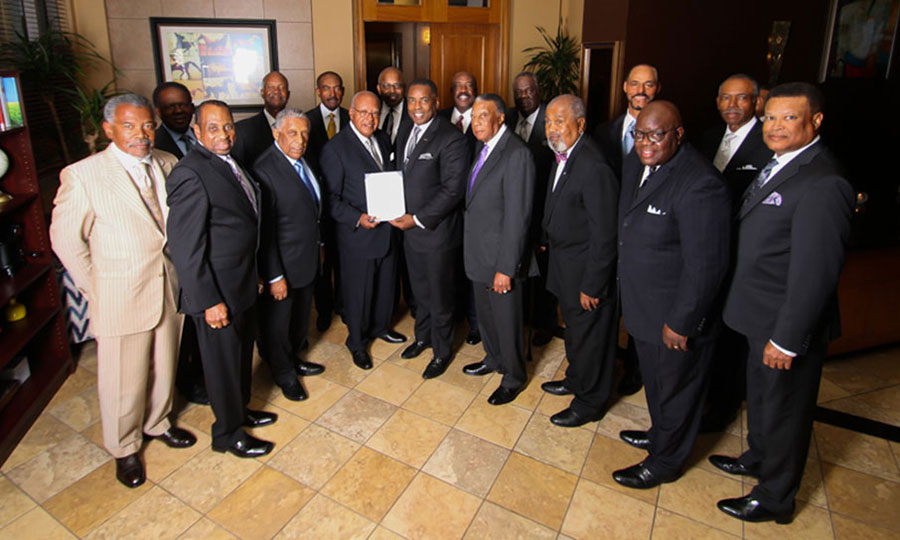 About the MARCH Foundation
Ken Jarvis joined UPS in 1957. Recognized as the company's first African American package car driver, he rose through the ranks, retiring after 37 years as Vice President of Human Resources.
Ken's reputation for mentoring is the stuff of UPS legend; countless UPSers credit their advancement and ultimate success to his care and guidance. For nearly four decades, he gave his all to UPS—but he still managed to give back to his community.
Through my success at UPS, I was afforded the opportunity to do things I never expected to do, and as a result, I created the March Foundation.
In 1998, Ken created The MARCH Foundation—Mutual Alliance Restoring Community Hope—to support the education of African American youth through scholarships to Historically Black Colleges and Universities (HBCUs). The MARCH Foundation has distributed more than $1 million in grants and scholarships to more than 1,000 students since its inception.
Funded initially by Black male executives who retired from UPS, The MARCH Foundation honors the legacy of men and women who seized the great opportunity UPS provided to shape successful corporate journeys, inspiring hope and offering direction to others navigating the path to equality in Corporate America.
Profits from this project will benefit The MARCH Foundation, and we hope these powerful photographs and insightful words inspire generations with the promise of possibility.

The MARCH Foundation Board of Directors
Norm Carmichael, Chairman
Mel Smith, Vice-Chairman
Bruce Trotter, Parliamentarian/Sergeant at Arms
Eric Leufroy, Treasurer
Don Wofford, Board Secretary
Kenneth B. Jarvis, Chairman Emeritus
Kenneth Parks, Past Chairman
Keith Jones, Past Vice Chairman
James E. Castillo, Jr., Founding Member
William Lewis, Founding Member
Dennis Obregon, Founding Member
Douglas T. Smalls, Founding Member
Jim Winestock, Founding Member
Michael D. Adams
Ernie Brown
Elze Epps
Gerard Gibbons
Myron Gray
Lawrence Lewis
Carlton Rose
Zachary Scott
Medford Turrentine
Myron Williams
Garrett Wilson
Stefan Wilson
Darnell Clay
Jim Pierce
Arthur B. Hill
Henry Short